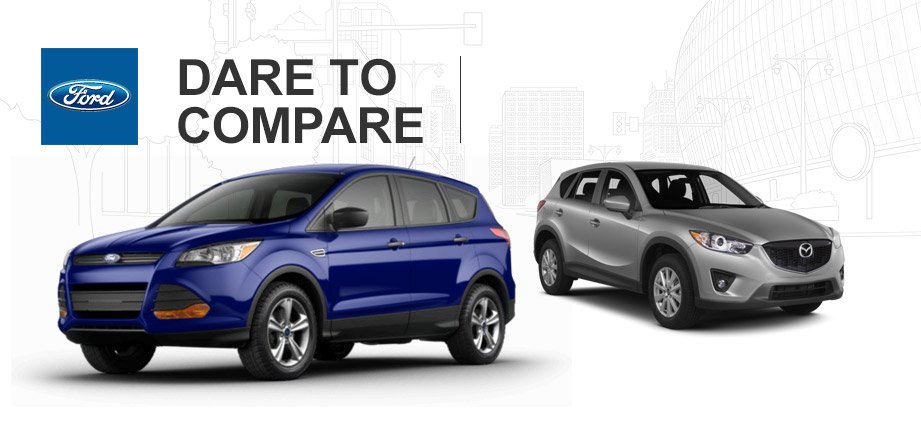 2015 Ford Escape vs 2015 Mazda CX-5
Crossovers SUVs have become some of the most purchased vehicles, blossoming on the scene in recent years.  Customers love the amount of adaptability that comes with this dynamic class of car.  With the handling ability of a nimbler sedan with the interior capacity of of a larger SUV, owners no longer have to settle for a vehicle that limits them.  Ford has been leading the charge on the crossover front from the very beginning.  With multiple model options in the crossover class, shoppers have choices.  One of the most popular crossover models sold by Ford is the Escape.  Here is a look at the 2015 Ford Escape vs 2015 Mazda CX-5.
Bigger Engine, Better Power 
One thing makes itself immediately clear when these two vehicles are placed side by side: There is a major power disparity between the Ford and Mazda models.  The Escape comes with a 2.5-liter 4-cylinder engine, while the CX-5 is only equipped with a 2.0-liter.  This leads to a significant dropoff in power.  The 2015 Escape comes with 168 horsepower and 170 pound-feet of torque at 4,500 RPM as a standard feature.  The CX-5 is not able to reach such heights, only able to generate 155 horsepower and 150 pound-feet of torque at 4,000 RPM.  This major difference in vehicle performance and engine power gives the Ford Escape a distinct edge over its competition.
It is not just a matter of impressive engine specs that sets the 2015 Ford Escape apart from the likes of the 2015 Mazda CX-5.  Many times its nice technological or interior features that can make all the difference when purchasing a vehicle.  This is definitely the case with the Escape.  A navigation system has gone from a nice optional amenity to a necessity for many people.  The Ford Escape, even at its base model, comes with navigation capability while the CX-5 does not.  And despite the CX-5 being a longer, taller vehicle, it's cargo space cannot measure up to the Escape.  By edging the CX-5 in cargo capacity with all seats in place (34.3 cubic feet to 34.1 cubic feet), and dominating the Mazda model in maximum cargo capacity (68.1 cubic feet to 64.8 cubic feet), the 2015 Ford Escape delivers in all categories.
The Escape Runs Away With It
As you can see the 2015 Mazda CX-5 is no match for the 2015 Ford Escape's engine performance, technological features, and cargo space.  And it is not too difficult to find this high-quality crossover.  Come see us at Toliver Ford for the inventory with the most appealing new car options.  Come see us today. Our top-flight sales team will be able to aide and assist all customers, from those who know exactly what they want, to those who have no clue what they should buy.