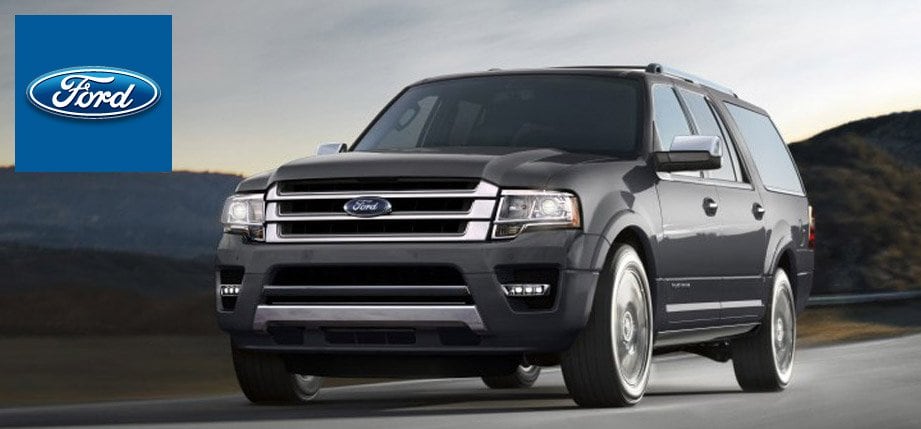 2015 Ford Expedition Paris, TX
An expedition is defined as a journey with a specific purpose.  Ford has been on a very definite quest for the last 17 years, aiming to make the most excellent SUVs on the road, and they have outdone themselves with the 2015 Ford Expedition near Paris, TX.   
With an amazing assortment of crossover, mid-size, and full-size SUVs, Ford is one of the leaders in the auto industry when it comes to lineup options, but this new edition of the Expedition is a standout option for those looking to get into a new SUV.
Potent Performance by the 2015 Expedition 
The first apparent facet of the 2015 Ford Expedition that the jumps out is the power and performance that it drives with.  Boasting a power 3.5L V6 engine that comes standard, the 2015 Expedition is in a league all by itself.  Able to achieve horsepower and torque that was once thought to be an extreme luxury, the Expedition drives with powerful confidence.  
The standard 365 horsepower puts the driver in complete command of the road ahead.  The Expedition also generates 420 pound-feet of torque at 2500 RPM, which makes for great towing at lower gears.  Go ahead and load up the trailer with the jet skis.  This Expedition makes the grade when it comes to top performance.

The 2015 Ford Expedition: Arriving this Fall
Featuring the innovative Ford Sync puts the driver in complete control of both the road ahead and the technology inside the 2015 Ford Expedition.  Ford Sync allows for interactive communication between the driver and the Expedition.  Most importantly, this technology does not require a driver's hands to leave the wheel, making for safer travels.  The voice activated Sync can play the perfect song for just by simply asking it to find it.  Sync can also read incoming texts aloud, keeping the driver's eyes trained on the surroundings.  Music and other information are boldly displayed on a brilliant 4.2 inch screen conveniently located in the center console.  
With seating for up to eight people, the 2015 Expedition has an abundance of space for passengers.  Another excellent feature that comes standard is Ford's Active Park Assist, which makes parallel parking a breeze.  While the 20145 Ford Expedition is in amazing in every possible way, it is not yet available to be purchased.  Slated to be released sometime this fall, the 2015 Expedition is sure to make big news when it arrives.  Keep checking back with us at Toliver Ford for more information.