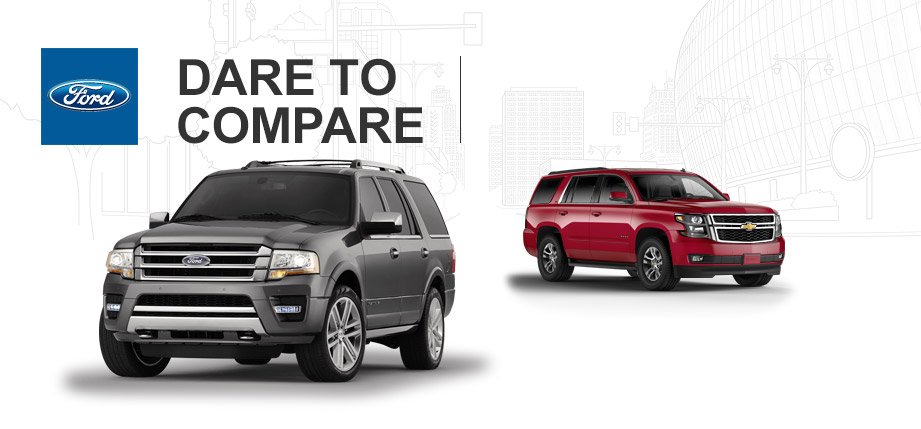 2015 Ford Expedition vs 2015 Chevrolet Tahoe
The full-size SUV class is a tough place to leave a mark.  It is a rough and tumble category in which customers demand top-notch power capabilities, interior space design, and standard features.  To be the best in full-size SUV class, it takes a well-rounded driving experience, plus a willingness to continue to improve.  The Ford Expedition has long been a favorite choice for customers.  Combining roomy passenger space, unyielding engines, and inviting interiors, the Ford Expedition sets a high bar for its competitors.  The Chevrolet Tahoe is a competitor that frequently attempts to knock the Expedition down a peg or two.  How do the models stack up?  Here is the 2015 Ford Expedition vs 2015 Chevrolet Tahoe.
More Engine Options, More Power in the Expedition 
By looking underneath the hoods of these two SUVs, there is an immediate difference in the engines present in each model.  The Expedition has three different engine varieties (Two V-6 options and an EcoBoost 4-cylinder), while the Tahoe comes with only a 5.3-liter V-8.  When the 2015 Expedition is equipped with a twin turbocharged V-6 with EcoBoost, it actually outperforms the larger V-8 of the Tahoe.  The Expedition is able to generate 365 horsepower.  The 2015 Tahoe reaches 355 horses.   
Another way the  Expedition pulls away from the Tahoe is due to its MSRP.  The Twin Turbo Ford Expedition comes with an MSRP of $44,585 (a base model with 3.5-liter engine starts at $30,600).  The 2015 Tahoe comes in at $45,595 MSRP.  Yet, according to Edmunds, the True Market Value is actually higher on the Expedition than the Tahoe ($43,214 for the Expedition; $42,700 on the Tahoe).  Don't pay more for a vehicle that delivers less in terms of performance output.  

The Expedition Scores a Knockout
Frequently, the Tahoe is lauded for having one of the largest maximum cargo space ratings, but what about when traveling with a SUV full of people?  It does not measure up to the 2015 Expedition, which has 21 cubic feet of space behind its third row.  The 2015 Tahoe only has 15.3 cubic feet at its disposal.  For those who travel with a lot of people who have a lot of stuff, the Expedition is clearly the better option.  The legroom situation is also better in the Expedition, which has 33.2 inches of third row legroom and 39.8 inches in the second row.  The Tahoe has a tiny 24.8 inches made available to backseat travelers, while those in the second row have a comparable 39 inches.
The answer is clear: The 2015 Ford Expedition takes down the 2015 Chevy Tahoe.  With better maximum engine performance, a lower MSRP, and better usage of space, the 2015 Ford Expedition downs its rival with relative ease.  Check it out at Toliver Ford.