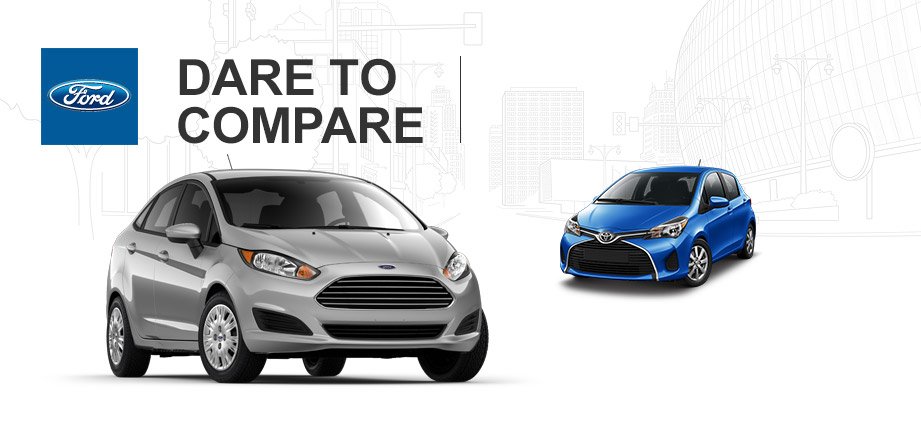 2015 Ford Fiesta Hatchback vs 2015 Toyota Yaris
Every aspect of a vehicle comes under close scrutiny when it is being considered for purchase, and why shouldn't it?  One never knows what life or the road may bring at the next corner or intersection.  A few more cubic square feet of passenger space or cargo volume here and an extra couple of ponies under the hood can make all the difference when it comes to a customer deciding on which vehicle he or she chooses.  
Ford realizes this, maybe better than any other auto producer in in business today.  The auto giant has been in existence since 1903--long enough to learn a thing or two.  From its powerful Super Duty to its muscular Mustang, Ford maximizes the ability of its vehicles.  The same holds true for the Fiesta, one of the brand's most diminutive offerings.  Here is a look at the 2015 Ford Fiesta Hatchback vs 2015 Toyota Yaris.
A Tale of the Tape: Fiesta vs Yaris 

The Fiesta certainly supplies an ample amount of fun.  From its playfully sporty appearance, one knows immediately that they are in for a unique and unexpected driving experience.  With its bold colors and sleek body contours, the Fiesta glides through traffic with stealth precision, yet attracts the stares and attentions of other envious owners of the road. The Fiesta for the 2015 model year is not only dynamic in its looks, but also in its performance as well.  The 1.6-liter inline 4-cylinder engine of the Fiesta Hatchback gets up to 120 horsepower and 112 pound-feet of torque at 5,000 RPM.  The 2015 Yaris lacks the same kind of engine capability, generating 106 horsepower and 103 pound-feet of torque at 4,200 RPM.
Get Your 2015 Ford Fiesta Hatchback Today
A big knock on small hatchbacks is that they often lack the necessary space to transport people and their belongings comfortably.  Many times, owners and their passengers feel as though they have been drafted into a circus, forced to drive in a clown car that does not provide adequate space.  This is not the case in the 2015 Ford Fiesta Hatchback.  The Ford model comes with an interior volume of 100 cubic feet.  The 2015 Yaris is slightly smaller at 99.7 cubic feet.  Yet, despite the small difference in interior space, the Fiesta Hatchback comes with a much larger curb weight at 2,537 pounds.  This is bests the Yaris by over 200 pounds (2,315).  The 2015 Ford Fiesta Hatchback is available now at Toliver Ford.  Stop in today.