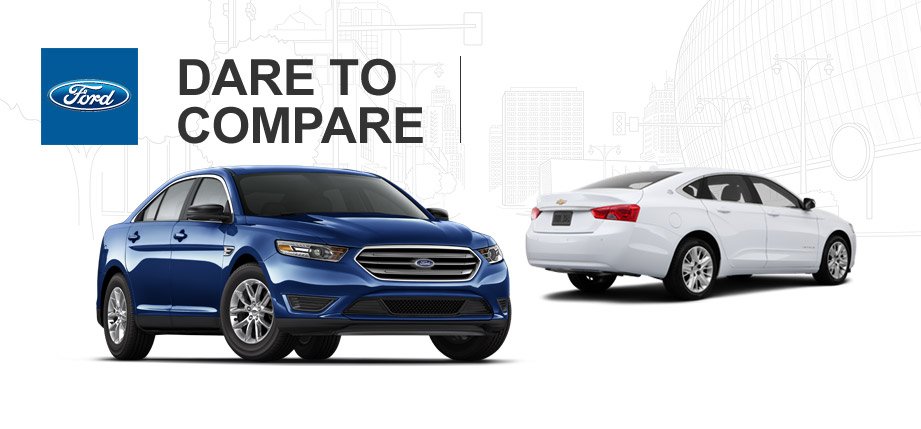 2015 Ford Taurus vs 2015 Chevrolet Impala Rockwall, TX
Some of Ford's stiffest competition comes from another Detroit-based automaker.  Chevrolet is always attempting to overthrow Ford's grip as America's most beloved automotive brand.  However, Ford uses Chevrolet's efforts as motivation, inspiration, and innovation.  The Ford Taurus and the Chevy Malibu have long jockeyed for position in the full size vehicle class.  Here is a look at the 2015 Ford Taurus vs 2015 Chevrolet Impala.
More Standard Power for the Taurus 
One of the very first items that separates the Ford Taurus from the Chevy Impala is the base engine.  Ford does not mess around with a four-cylinder engine offering for its Taurus, as it comes with a standard 3.5-liter V-6 that achieves 288 horsepower and 254 pound-feet of torque at 4,000 RPM.  The Impala has a V-6 engine, but it does not the base engine.  The smaller 2.5-liter four-cylinder of the Impala provides for less dynamic performance, producing only 195 horsepower and 187 pound-feet of torque at 4,400 RPM.  Yet somehow the Manufacturer's Suggested Retail Price (MSRP) is nearly identical.  Why pay the same price for decreased power outputs?  With a less powerful engine, the Impala should be head and shoulders above the Taurus in fuel-efficiency, but it just barely holds an edge of the Ford model.  The Impala has 21 MPG City/ 31 MPG HWY ratings while the Taurus is nipping at its heels with EPA estimates of 19 MPG City/ 29 MPG HWY.
Cargo Space Makes Taurus the Complete Package

Performance is only one way in which to measure the Taurus's success.  Ford knows that a big part of the enjoyment of a vehicle is the places it allows its owners to go.  And new destinations are enjoyed more with family and friends.  That is why the 2015 Ford Taurus has  a huge amount of cargo space.  Taurus owners can pile passengers and their possessions comfortably into the new 2015 model.  Coming with over 20 cubic feet of cargo capacity (20.1 cu. ft.) the Taurus has storage space in spades.  The Chevy Impala cannot make the same claim, as it only has 18.8 cubic feet of cargo volume with which passengers have to work.
The Ford Taurus for the 2015 model year takes care of the competition by generating more standard power without a significant downgrade in fuel efficiency or increase in MSRP.  With a large cargo area measurement, the Taurus makes for a terrific road trip vehicle as well.  Come and see the 2015 Taurus here at Toliver Ford.