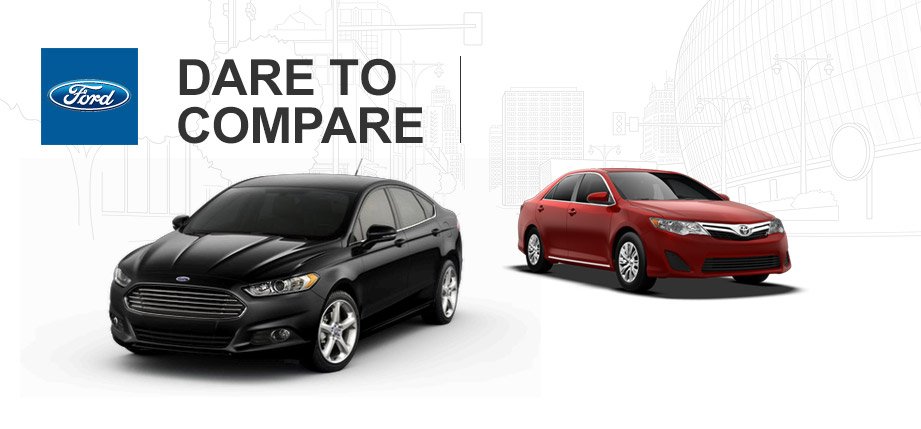 2015 Ford Fusion vs Toyota Camry
It is hard to believe that the Ford Fusion is coming up on 10 years of production, but what a 10 years it has been.  It is tough being the new kid on the block. Many new models fizzle out after a few years of middling sales and lukewarm customer satisfaction. That has never been the case for the Ford Fusion.  Since 2005 the Ford Fusion has only grown in popularity with car shoppers.  In 2013, sales nearly crossed the 300,000 units sold mark, falling just shy at 295,289. One of the vehicle's who is taking notice of the Fusion is the Toyota Camry.  Here is a head-to-head look at the 2015 Ford Fusions vs the Toyota Camry.
Space and Standard Features Make 2015 Fusion a Standout 
At their base models, both vehicles share some similarities.  The Fusion and Camry are both fashioned with 2.5-liter Inline 4 engines and are front wheel drive systems. The while the Camry holds a slight edge in fuel economy (25 MPG in the city and 35 MPG on the high to the Fusion's respective 22 MPG and 34 MPG) and horsepower (178 HP to the Furison's 175 HP), the @015 Ford Fusion provides more standard torque with 175 pound-feet.  The with the Camry's edge in performance so minimal, other features need to be taken into account when looking at these two vehicles.
One standard feature that may not seem like a major asset that the Ford Fusion possesses and the Toyota Camry does not is an anti-theft system. While the Camry can be equipped with one as an optional feature, the 2015 Ford Fusion comes with a anti-theft system as a standard feature. Vehicles are big, expensive purchases.  Shouldn't security and assurance come as a basic necessity?
One area where the Fusion is the clear winner is when interior space is taken into account.  The Fusion is a taller (58.2"), wider (72.9"), longer (191.8") vehicle when compared to the Camry (57.9" tall, 71.7" wide, 189.2" long).  Bigger is not always better, sure--but that sentiment is categorically false when it comes to passenger and cargo space.  The 2015 Ford Fusion measures out at 118.8 cubic feet of interior volume which is larger than the Camry's 118.1 cubic feet.  And with 16 cubic feet of cargo space, the
Fusion also can pack more luggage than the Camry, who comes in at 15.4 cubic feet.
The 2015 Ford Fusion Takes It!
The 2015 Ford Fusion and Toyota Camry have some similarities in drivability, but when it comes to standard features and interior space, the Fusion distinguishes itself.  Coming with a standard anti-theft system and more cargo and passenger space, the Fusion is proves to be owner-friendly.  Test drive the new 2015 Ford Fusion at Toliver Ford soon.